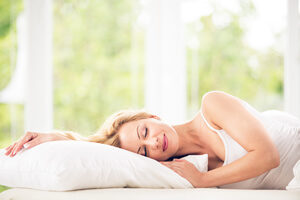 New data reveals dementia is now the leading cause of death in Australian women.
"In 2016, dementia (including Alzheimer's disease) became the leading cause of death among Australian women," said ABS health statistics director James Eynstone-Hinkins.
Heart disease was the highest on the list among all Australians but better treatment means people are living longer with the disease and fewer are dying from it.
On the flip side, "death rates for diseases, like dementia were increasing" said the Australian Bureau of Statistics.
There's currently no known treatment for dementia, however there are a number of preventative measures that might be beneficial.
7 Steps To Support Brain Health
Keep blood pressure, cholesterol, blood sugar & weight in control
Regular exercise is good for the heart and brain. Start slow and build to at least 30 minutes per day
Limit alcohol to no more than two standard drinks at any one sitting.
Smoke from tobacco can harm almost every system of the body, including the heart and brain. For help, call Quitline.
The food you eat affects cholesterol, blood pressure, type 2 diabetes and weight. Add vegetables, legumes and some fruit. Limit trans fats by avoiding processed foods
Go for regular check ups from a health professional
Manage depression and mental health concerns with assistance from your doctor & allied health.
Benefits of Exercise
A lack of physical activity is a known a risk factor for dementia.
People that do regular exercise on average have better brain health, cognitive abilities and lower risk of dementia
Physical exercise may also help slow a decline in people with mild cognitive impairment or dementia.
David L. Edwards is an author, Chinese medicine physician and licensed acupuncturist. He is the author of The Body Fat Formula and The Pocketbook guide to Chinese medicine and painless cures (available on amazon). David Is the director of various health programs
If you got value from this article, share it with your friends on Facebook by clicking the share button below.